December 15, 2021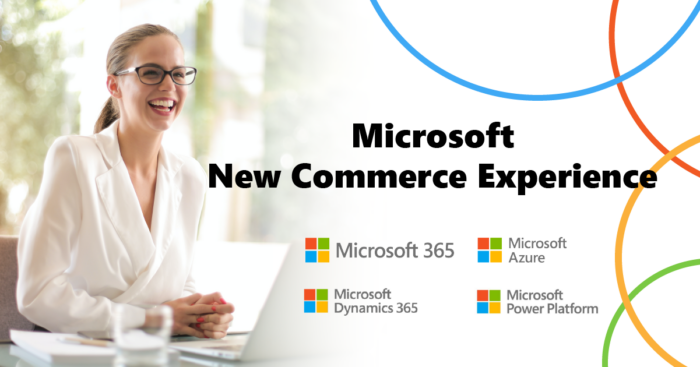 Microsoft New Commerce Experience is a new platform for Microsoft Cloud Subscriptions that was launched in 2019 to simplify and streamline the way customers buy their Microsoft products and to give them more options to customize those purchases based on their business needs. NCE will soon be the platform on which all Microsoft products and services are provided:
2019-2020: Azure plan, Server Subscriptions, Azure RI, and third-party Marketplace offerings have been added to the NCE platform.
2020-2021: Adding perpetual licenses to NCE
From January 2022: Microsoft 365, Dynamics 365, Power Platform, and other "per seat" products will be added to NCE, including Windows 365.
Thus, the CSP (Legacy) platform as we know it today, is replaced by the CSP New Commerce Experience (NCE) platform.
Key dates announced by Microsoft:
January 10, 2022: General availability of the NCE for Microsoft "per seat" offers. Subscriptions can be provisioned either in the Legacy CSP or in the NCE.
March 10, 2022: Any new subscription will be provisioned in NCE. Renewals can continue in the Legacy CSP
July 1, 2022: Subscriptions can only be renewed in NCE
December 31, 2022: Resellers who are receiving Incentives directly from Microsoft will no longer receive them for subscriptions that are in the Legacy CSP. All subscriptions need to be migrated to NCE to continue to receive these rebates.
Available now: Microsoft Commerce (Incentives) rebates are available for subscriptions that will be in the NCE.
Here are the important changes to remember:
The addition of a monthly and three-year subscription. You can therefore choose a 1 month, 12 months or 36 months subscription for your customer. In the current platform (CSP Legacy) only the 12 months subscription is available and payable monthly or annually and 36 months for some Dynamics 365 products.

The monthly subscription is 20% more expensive than the annual or three-year subscription but gives the customer more flexibility when it comes to increasing, reducing, and canceling subscriptions or licenses.

For an annual subscription, you can choose a Monthly or Annually payment. For a three-year subscription you can opt for a Monthly, Annually, or Triennially payment.

Once a subscription has been activated, it can only be canceled or reduced within 7 days of activation. After that, no cancellation is available. You will have to wait until the renewal date (depending on the subscription term: 1 month, 12 months or 36 months).
Upgrades to "larger packages" are still possible.

Suspension (Pause) of a subscription: new in NCE. You can in NCE suspend the subscription of a customer who does not pay. He will no longer have access to the services. During the suspension, you will be billed. You can reactivate the services at any time.
Sample pricing for a Microsoft 365 Business Standard subscription: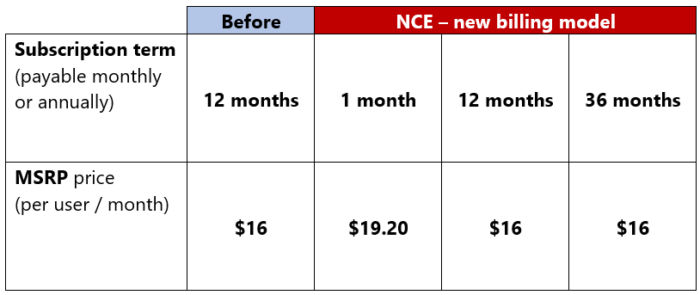 Promotions
From January 10 to June 30, 2022: Monthly subscription at the price of the annual subscription in NCE
From January 10 to March 31, 2022: 5% on Annual subscription in NCE
ITCloud.ca aired two presentations to explain these changes to you in more detail. You will find the recordings, the slides and documents to help you navigate these changes in your ITCloud.ca partner portal, "Documentation" section, "Microsoft NCE tab".
On the other hand, our teams will support you to sell at the best price and minimize the impact on your customer.
Schedule a call today.