April 29, 2021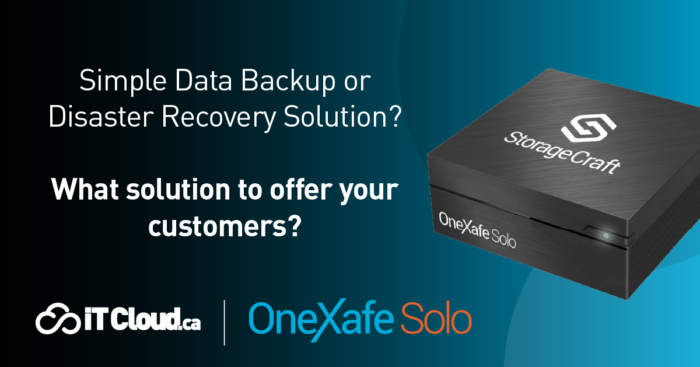 Every business owner must calculate the damage their business would undergo if it were to shut down for a certain period of time. These damages can include financial consequences (if key activities of the company are forced to shut down) but can also have legal consequences or consequences on brand image and customer satisfaction.
No matter the size of the company, the risks are there:
Power outages
Water damage
Hardware and software failures
Employee errors
Cyber attacks
Natural disasters (flood, fire, storm, etc.)
Which tools to choose to put in place to restart the business as quickly as possible after an interruption? Depending on the type of business, you must determine how much they can afford to lose.

There are several parameters to consider:
Are there any backups of critical data? Should disaster strike, will it be possible to switch to backup in sufficient time?
What are the critical applications of the organization?
Have you defined what the organization considers an appropriate or adequate recovery time objective (RTO) or recovery point objective (RPO)?
RTO : The RTO, or Recovery Time Objective is the maximum permissible interruption time during which a resource (server, system, database, network or application) may not be functional following a failure or disaster.
RPO : RPO, or Recovery Point Objective, refers to the age of files to be recovered from a backup so that normal operations can resume after the failure of a resource (computer, system or network). For example, if the RPO is one hour, backups should take place at least once per hour. RPO therefore quantifies the maximum amount of information you can afford to lose after an incident.
In the case of a simple data backup, the time to restore data and setting up the systems can take several hours or even days.
System Replication (or disaster recovery) ensures that systems and applications are restarted quickly to a state as close as possible to the one before the disaster. The time required to get the business back into production is therefore minimal and often reduced to a few minutes.
DRaaS, or Disaster Recovery as a Service, enables failover to a secondary system that provides business continuity by supporting critical business IT needs. It is today the most common solution for SMBs because it is profitable, simple and allows the company to access it for a fixed and predictable monthly price (unlike setting up and managing its own disaster recovery solution which requires a large budget and IT expertise to do so). DRaaS can include backup as a service.
If continued business operations are essential for the survival of the organization, then a data backup system is not enough. We must add a disaster recovery solution.
Replication is generally required for mission-critical applications. But some business applications are not rated as critical and can tolerate downtime or possible data loss. Let's take an example: user files can be restored in two days, while some corporate data in databases will need to be recovered in two hours. The disaster recovery system can then be combined with a backup solution.
OneXafe Solo, for total business continuity
As a strategic advisor to your clients, you are responsible for ensuring that they are well protected in the event of a disaster. At ITCloud.ca, we offer you 2 proven solutions:
SBackup and MedicBackup : Cloud backup solutions fully supervised by our experts. No worries, your customer's backups are safe and above all recoverable, which is the most important.
OneXafe Solo : Cloud-based DRaaS for total business continuity that perfectly matches the needs of your SMB customers. It is a fully integrated solution with StorageCraft Cloud Services (DRaaS) to ensure full business continuity with one-click organized failover in the cloud. It allows the restoration of an entire infrastructure.
At ITCloud.ca, we are here to help you choose the best solution based on your clients' needs. Please do not hesitate to contact us if you have any questions or need assistance.