March 8, 2021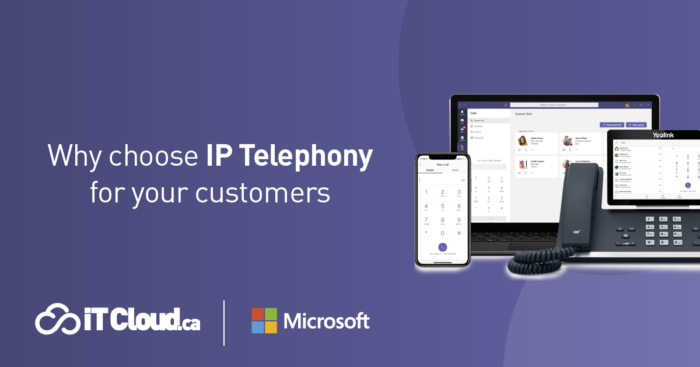 IP telephony has many advantages and attracts more and more companies. The adoption of this technology was further accentuated by the Covid-19 pandemic, which forced many employees to work from home. We hope this article will help you convince your customers to give up their old phones and choose a modern phone system.
So why choose IP telephony?
Cost reduction: Cost reduction is the most attractive benefit.
IP telephony systems are much less expensive than traditional systems for both local and long-distance calls.
With IP telephony, no heavy installation is required if your customer already has internet access: no cable purchases or installation costs to consider.
Reduction in capital expenditures incurred at the time of acquisition since IP telephony systems are paid monthly.
Saving in management and maintenance costs.
Mobility: At a time when remote work is becoming more and more common, the mobility offered by IP telephony is a major advantage. Employees travelling or working from home are connected the same way as those working from the office. They can be always reached no matter where they are.
Flexibility: IP telephony makes it easy to install or remove lines as needed. This is more complicated and more expensive with traditional telephony where you must evaluate your needs in advance with the risk of ending up with unnecessary expenses.
Ease of deployment and management: IP telephony technology is easy to install and configure. In addition, you only need to access a convenient online portal when you want to add features or change the system configuration.
Gain in productivity: IP telephony features go beyond what traditional telephony offers. We can listen to our voice mail on our computer, organize an audioconference or even a video conference. Convenient features that make life easier for companies and increases their productivity.
Several IP telephony solutions exist on the market today. However, the solution offered by Microsoft has many advantages:
Microsoft 365 Business Voice – a modern phone solution that combines teamwork with unified communication.
Microsoft 365 Business Voice is a cloud-based telephone system that integrates with Microsoft/Office 365 for an all-in-one communication solution that brings together chat, meetings and calls into one application, Microsoft Teams. Microsoft Teams has become the most used collaboration platform in the world and your customers are probably already using it.
Best user experience: Making and receiving calls in Teams, from home or on the go from Android and iOS, and easy to add video and sharing.
PSTN Call: Available With Calling Plans and/or Direct Routing, each user can make and receive calls.
Collaboration and voice solution together: Teams gives the ability to call regardless of user's location, encouraging teamwork.
Quick provisioning: Acquisition and assignment of phone numbers in minutes, wherever Microsoft offers its services, without any on premise equipment.
Improved number porting and 911: Using existing phone numbers with Microsoft calling plans, and compliance with E-911 standards and other legal obligations.
Local, long-distance, and international calls: Allows to stay in touch with the most important partners thanks to several available calling plans.
Audio Conferencing: Allows people to call a Teams meeting from their phone. This is very convenient when people do not have access to the Internet.
Security and availability: This phone system is connected to Microsoft's global cloud which offers unmatched security and built-in redundancy and load balancing with 99.9% uptime guaranteed.
With Microsoft 365 Business Voice, help your customers choose IP telephony. This technology is spreading very quickly. Do not be behind your competitors and offer it today!
If you have any questions, would like to discuss the solution or need support to deploy it for your customers, please contact us at  partners@itcloud.ca. Our experts are always available to assist you.