March 1, 2021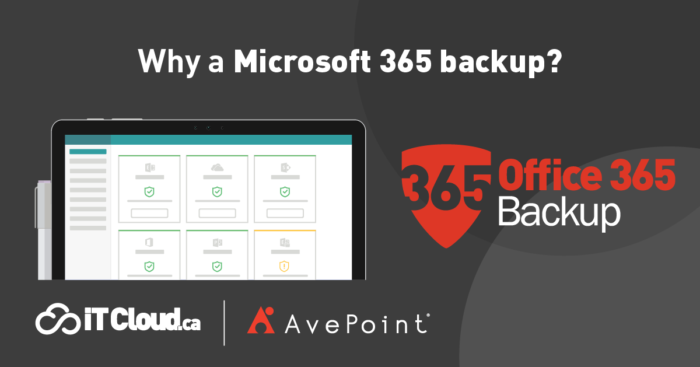 Like many IT companies you have customers who use Microsoft 365 or Office 365 solutions. So, you must definitely be wondering if all data is backed up well and how you could help them recover it when needed. Microsoft's high availability and excellent cloud security may make you think backup is not necessary.
Let us first take a look at what is included with Microsoft subscriptions knowing that there is no such thing as a "native" backup solution in the traditional sense.
Redundancy : Microsoft offers the best redundancy practices: hardware, software, and data. Replication is done several times in different data centers to ensure high availability of services. In the event of a breakdown or incident, users will not be affected and will remain productive.
Data retention policies: If a document has been deleted within the previous 93 days, if an email has been deleted within the previous 30 days, or if a workspace has been deleted within the previous 30 days, you can simply restore it from the recycle bin. It is possible to extend these delays by configuring retention policies. But for this you need at least the Office 365 E3 license.
Litigation Hold keeps mailbox data as long as the mailbox in question is put on hold. This also applies today to SharePoint, OneDrive, and Teams data. Note that this feature is not an alternative to backup; it is designed to preserve user data for eDiscovery purposes, not to restore lost data. Litigation Hold is available only in some subscriptions.
These features are not easy to set up and use. Plus, while you feel well protected, the restore can take time and a bit more work. A third-party backup tool can do all of this much more easily than Office 365.
These features have a cost For example, going from Microsoft 365 Business Standard at $ 16 to Office 365 E3 at $ 26.60 to benefit from all these advanced features will cost you $ 10.60 more, that is twice as expensive as an Office 365 backup solution.
An Office 365 backup solution gives you the ability to safely and easily restore your customers' data in a granular way. It also allows:
Recover all data as it was at a time T in the event that ransomware could have infected them, for example.
Protect against administration errors in the Microsoft 365 or Office 365 environment. For example, an administrator may delete accounts or mailboxes. He may also forget or not set the appropriate retention setting, such as improperly keeping a mailbox of an employee who has left the organization.
Set up a number of distinct backups so as not to put the company's data in the hands of a single Cloud provider.
To avoid finding yourself in a bad position with your customers, offer them the Office 365 Backup solution from AvePoint. This solution is powerful and user-friendly with reliable, fast, and easy recovery. It helps secure emails, calendars, sites, groups, teams, projects, files and essential conversations with unlimited automatic backup and storage space accessible anywhere.
Contact us today at Partners@itcloud.ca and we will be happy to discuss this offer with you.