March 6, 2023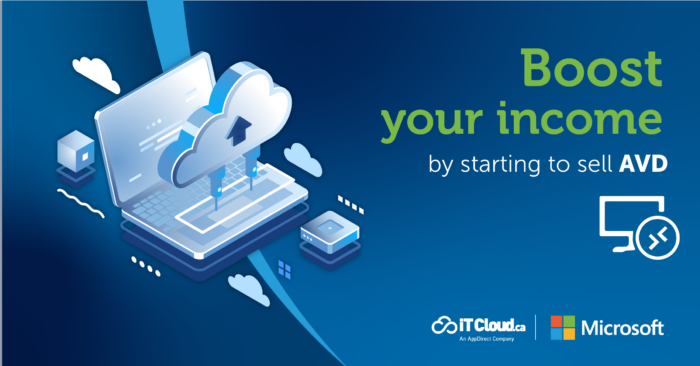 Nowadays, employees often find themselves working virtually from home, the airport or even a coffee shop and, more than likely, on unmonitored and unsecured networks, which creates many opportunities for security breaches and data misuse to occur. Virtual desktops allow businesses to support remote working staff and Bring Your Own Device (BYOD) practices. Of course, the pandemic and the shift to hybrid working have accelerated the adoption of this technology.
Azure Virtual Desktop is a strong and reliable solution for the distributed workforce. Many small business owners are concerned about the security of their business and are looking for these kinds of solutions. It is therefore important to know how to sell AVD to your customers and not let your competitors do it for you.
Azure Virtual Desktop overview and benefits
With AVD, it's easy to quickly secure and connect employees, no matter where they are working from and on any device.
AVD allow the company to be setup for secure remote work with a built-in network security, identity management, and data protection.
With AVD, employees will enjoy a personalized work environment that allows them to work in a way that fits their unique style.
AVD gives employees a great user experience with Windows 10/11 native on virtualized desktops and a seamless connection to Microsoft 365 apps.
Your sales team can use this guide to have meaningful conversations with your customers! How to start the conversation with your customer?
Here are some great questions to ask:
How many remote employees do you have? Are you considering keeping some remote permanently?
Do you currently use an existing remote desktop service (RDS) or virtual desktop infrastructure (VDI) solution, or are you aware of the benefits they provide a remote workforce?
Are you able to easily personalize employee desktop environments with specific apps or permissions?
Are you concerned about security of employee-owned devices like laptops or mobile devices?
Do you experience workforce fluctuation, or use short-term employees or contractors?
How long does it take you to onboard a new employee or change permissions when they switch roles?
How you control user permissions when employees work from home?
Are you protected from potential data breaches?
Does your company have to adhere to strict data compliance or regulatory pressure?
Are you paying for hardware you aren't using?
The answers to these questions will open the door for you to present the benefits of Azure Virtual Desktop. You may use a short PowerPoint presentation or a flyer that highlight why AVD is a great solution that meets your client's needs.
Here are some points that you can add to your presentation:
Provide flexibility to employees: Azure Virtual Desktop will help you get employees connected quickly and securely, no matter where they are working from. They'll be able to access their virtualized desktop from their favorite qualified device. You can optimize employee profiles to provide specific applications for individual users or roles.
Optimize IT costs/management: Azure Virtual Desktop provides the best price on virtualized Windows 10/11 with multi-session. You can reduce costs by turning infrastructure off when it's not being used. You can optimize based on cost or performance. With a purchase of Microsoft 365 Business Premium, you receive the licenses you need for Azure Virtual Desktop. Make the most of your investment and upgrade to virtualized desktops to provide the best user experience for your employees at an industry leading price.
Enforce a Zero Trust model: AVD provides identity management, connects employees through a secure network, and securely stores data. Azure Virtual Desktop (AVD) secures sensitive information in the cloud, and entry points are protected by user authentication. AVD is native to Azure, so you can easily connect to Microsoft Defender, Azure Security Center, and Azure Arc for added security.
The Microsoft 365 Business Premium license covers licensing requirements for Azure Virtual Desktop. Your customer will only pay for the Azure infrastructure.
Microsoft 365 Business Premium + Azure Virtual Desktop
Security for remote work. Overcome vulnerabilities arising from users with multiple credentials. Enable employees to securely share resources outside the corporate firewall.
Better productivity. Avoid delays caused by forgotten passwords and separate sign on to each app, to improve workflow for local and remote employees.
Cost optimization. Make the most of your customers' existing Microsoft 365 Business Premium subscription. Provide the best price on Windows 10/11 with multi-session from Azure Virtual Desktop.
Already an ITCloud.ca partner? Sign into your ITcloud.ca Partner Portal to check out more resources available in the Documentation Section. If you need more help, please feel free to
Book a call with one of our advisors
Or sign up now to simplify the way you find, sell, and manage technology for your customers with ITCloud.ca. At ITCloud.ca, we help you find solutions, strengthen your commitments, and become significantly more profitable.