December 13, 2022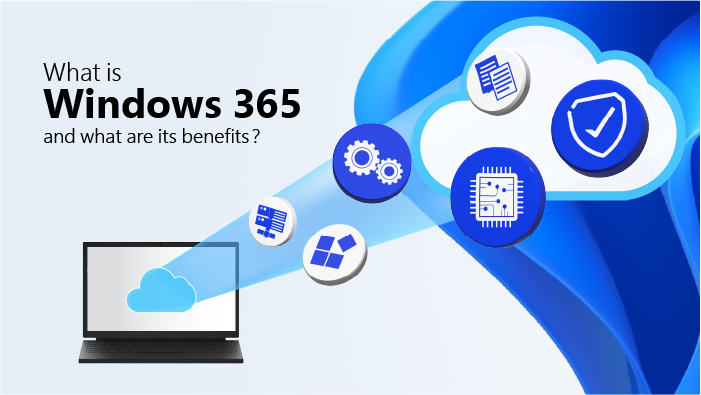 Why Windows 365
Like it or not remote work or some form of hybrid work has made an impact on the market and the pandemic proved its case.
Occasionally, technology makes a solution at the right time in the right place. Microsoft has given companies the ingredients for remote workers to continue this flexible form of earning a living that was not available to the masses before. For these times, Windows 365 is the right solution for SMB customers that need remote workers to have access from anywhere to the company data and applications.
Everything is ready to work and securely accessible anywhere you are and, on any device, from a workstation or a tablet. Users can access Windows 365 Cloud PC from Android, iOS, Mac and Windows through either the HTML 5 web client or the full Remote Desktop app.
Windows 365 is a PC in the cloud also known as a DaaS (Desktop as a Service). Everything from the compute, storage and Azure subscription is managed by Microsoft at a fixed monthly price. The only variable cost would be the network access consumption per month.
Windows 365 is available in two versions:
Windows 365 Business is made specifically for use in smaller companies (up to 300 seats) who want ready-to-use Cloud PCs with simple management options.
Available with Windows 10 & 11
Basic administration using Windows 365 portal and M365 Admin Centre
No Azure subscription required; no licensing pre-requisites required
Supports native Azure Active Directory join (AADJ).
Windows 365 Enterprise is for larger companies with more than 300 users or organizations with fewer than 300 users that want to manage virtual desktops in the cloud and physical PCs with Microsoft Endpoint Manager. Windows 365 Enterprise requires the organization to manage an Azure Subscription, including a virtual network. It includes options to create custom Cloud PCs based on device images that you create, and more management options.
Deploy & manage through Microsoft Intune
Must be licensed for Windows 10 or 11 Enterprise, Microsoft Endpoint Manager, and Azure Active Directory P1
Azure subscription optional
Supports Azure AD Join (AADJ) or Hybrid Azure AD Join
Unlimited number of users
This is all about empowering the employees to do their best work in a secure environment. Microsoft offers several preconfigured Cloud PCs that range from low-end systems with one virtual CPU, 2GB of Ram and 64GB of storage to high end configs that top out at 8 vCPUs, 32GB of Ram and 512GB of storage.
Windows 365 user experience
Users sign in through a traditional Azure web portal to access their cloud PC. After signing in, users can click on Open in a browser. Then the session will load in an HTML 5 version of the Remote Desktop app and allow the user to access the PC in the web browser. Users can also install the Microsoft Remote Desktop app and access their Cloud PC with the app.
Some Use cases for Windows 365 Cloud PC
The uses cases for Microsoft 365 Cloud PC are similar to those of any virtual desktop.
Windows 365 is good for bringing the same experience as a physical laptop or desktop, to remote users' environment that maintains the company's security boundaries, privileges, and controls. 
It's good for Process workers, information workers and power users (developers) that need a secure cloud platform to support hybrid work. Windows 365 provides a range of virtual machine (VM) sizes for these use cases.
Another use case for Windows 365 is for users who do not have access to adequate internet speed. Since you're basically streaming the monitor from the cloud PC, all the files you need are on the server. So, when you download large data from any source, you are not downloading it to your location computer. Instead, you upload it to Microsoft's data centers.
It's also important to point out Windows 365 Offline feature, supporting work in Windows 365 even when disconnected from an internet connection. When connectivity is restored, the cloud PC will automatically resync with the service without data loss, so the workflow and experience are persistent.
Contact our team at ITCloud.ca to discover more about how Windows 365 can help your customers' business and how you can try Windows 365 for free.
Book a call with one of our advisor