August 28, 2020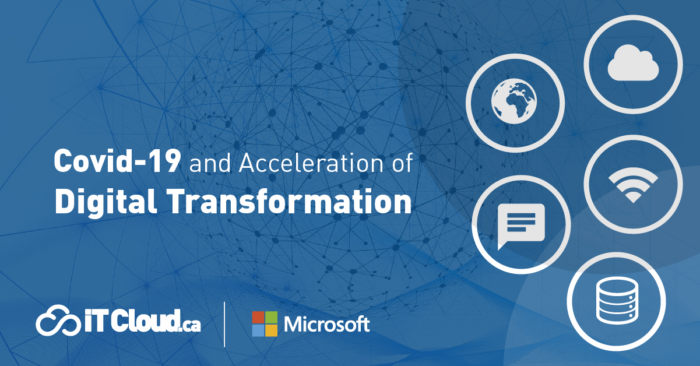 During this pandemic, digital transformation has never been more of a priority for businesses. It became a matter of survival and leaders began to rethink the way they worked. As Microsoft CEO Satya Nadella said: "We've had two years of digital transformation in two months."
Indeed, it is often in times of crisis that it is urgent to reinvent and adapt:
Promoting remote work: Employees had to be equipped, secured, trained, and put online in order to continue to serve customers. To ensure the continuity of their business, SMBs have had to reinvent the use of their IT systems. The adoption of the Cloud has made it easier to access the services needed for remote working with solutions like Microsoft 365, Microsoft Windows Virtual Desktop, Microsoft Azure, etc…
Implementing Online Collaboration Platforms: These platforms have allowed employees and customers to work without having to face physical limitations. Collaboration platforms such as Microsoft Teams and SharePoint have been and continue to be widely used and preferred by SMBs.
Video conferencing and chat: Presentations, trainings, events, teams, and business meetings were easily made thanks to video conferencing and chat tools such as Microsoft Teams.
Digitalize tools and processes: Some processes, like signing/approving paper documents, such as purchase orders, contracts, or timesheets, could be digitized very easily with workflow management tools like Microsoft Power Automate or Microsoft Power Platform.
Online file sharing: File-sharing platforms, such as Microsoft OneDrive, Teams and SharePoint, have enabled files to be shared securely and efficiently from anywhere and on any device.
All these tools are more and more intuitive however they require for some training through e-learning solutions such as MOOC 365.
After a time-off, the global economy is now slowly recovering. So, what do we do? Are we stopping or are we continuing our digital transformation? While millions of workers turned into teleworkers overnight, SMBs had no choice but to adapt on the fly. This experience has shown that digital transformation has gone from "a nice to have" to a "unique way of working". It is therefore necessary that mentalities change sustainably, and that the digital transformation continues in a more structured way within companies. As IBM Managing Director Arvind Krishna said, "I think history will remember this crisis as the moment when the digital transformation of businesses and society suddenly accelerated. And together, we laid the foundation for the post-Covid world."
At ITCloud.ca we have all the tools to help you assist your customers in their digital transformation. Contact-us today at Partners@itcloud.ca and we will be happy to discuss our offers with you.