February 12, 2021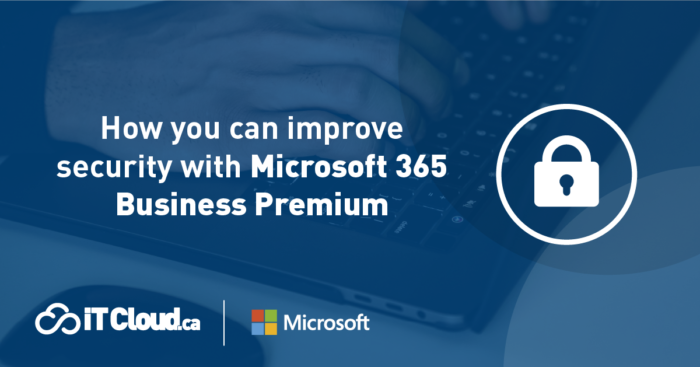 Microsoft Business Premium
The security solution for your Customers' business
According to a Verizon report, 58% of cyberattack victims are classified as small businesses. The 3 reasons which justify this percentage are as follows:
Small businesses do not have the same level of cybersecurity in place as would a large enterprise
Large corporations invest every year to protect their assets
Cybercriminals target companies that are easy to attack
With Covid-19 pandemic and the increase in employees working remotely, cyber security is no longer a luxury. It is today an absolute necessity for small businesses.
So, what to do when your customers financial means do not allow them to invest as large companies do?
Thanks to Microsoft 365 Business Premium. It is an affordable all-in-one solution that was designed to help SMBs defend themselves against threats (virus, malware, phishing, and ransomware), protect their business data, and secure their devices.
In this article, we will list all the security component of Microsoft 365 Business Premium and see how to use them to protect your customers' business.
Threat protection
Office 365 Advanced Threat Protection: helps protect businesses against sophisticated phishing and ransomware attacks. It includes 3 features:
ATP Safe Links protects from malicious URLs in emails or Office documents. It double-checks every link at the time users click on it to see if they are about to be sent somewhere dangerous.
ATP Safe Attachments protects from malware and viruses attached to messages or documents.
Anti-phishing intelligence helps protect from malicious impersonation-based phishing attacks and other types of phishing attacks
Advanced multi-factor authentication helps protect access to data and applications by prompting a user during the login process for an additional form of identification, such as entering a code sent to their mobile phone.Windows Defender provides comprehensive protection for system, files, and online activities from viruses, malware, spyware, and other threats
Data protection
Data loss prevention (DLP) is used to prevent employees from sharing sensitive information such as credit card info, social security numbers, and more
Office 365 Message Encryption encrypts emails sent with sensitive data that only the intended recipient with the correct credentials can open the email
Azure Information Protection enables them to classify, protect documents and emails by applying labels. It is then possible to control who has access to company information whether it's in an email or a document, by applying restrictions that prevent people from forwarding, copying, or printingExchange Online Archiving is a cloud-based archiving solution. This is an easy-to-use feature when users need to preserve emails and documents for legal reasons, or need to access an employee's emails/files after leaving the company
Device management
Intune helps protect devices and data, considering the amount of phones, tablets, and laptops a company uses:
Mobile Application Management is typically used for devices that are not owned by the company, like personal phones or laptops. They control company owned email and files but not personal "data". If a device is lost or stolen, it is easy to wipe all the corporate data from it
Mobile Device Management is the best option if the organization issues company-owned devices to their employees for work use. They centrally manage everything on the device, installs apps, restrict the functions or usage, block recreational usage, etc. If a device is stolen, wiping the corporate data, or doing a full factory reset is easy
Conditional access lets them control which devices reach their Office apps and service data, and allow or deny access depending on when the user is logging in, their location while attempting to access it, what apps they are using, and if it is outside of normal working hours.
With Microsoft 365 Business Premium, your customers get the best-in-class security/productivity tools. To know more, contact-us at partners@itcloud.ca and our security experts will help you deploy and configure the right components that better suit your customer's needs.